Ace Cafe Events
Ms. Trippy's Emporium presents Mellonas Madness
WELCOME 2 CLUB XIII
On the title track to Welcome 2 Club XIII, Drive-By Truckers pay homage to the Muscle Shoals honky-tonk where founding members Patterson Hood and Mike Cooley got their start: a concrete-floored dive lit like a disco, with the nightly promise of penny beer and truly dubious cover bands. "There were no cool bars in town and Club XIII was the best we had—but it wasn't all that good, and our band wasn't particularly liked there," says Hood, referring to the vocalist/guitarists' former band Adam's House Cat. "From time to time the owner would throw us a Wednesday night or let us open for a hair-metal band we were a terrible fit for, and everyone would hang out outside until we were done playing. It wasn't very funny at the time, but it's funny to us now." The 14th studio album from Drive-By Truckers—whose lineup also includes keyboardist/guitarist Jay Gonzalez, bassist Matt Patton, and drummer Brad Morgan—Welcome 2 Club XIII looks back on their formative years with both deadpan pragmatism and profound tenderness, instilling each song with the kind of lived-in detail that invites bittersweet reminiscence of your own misspent youth.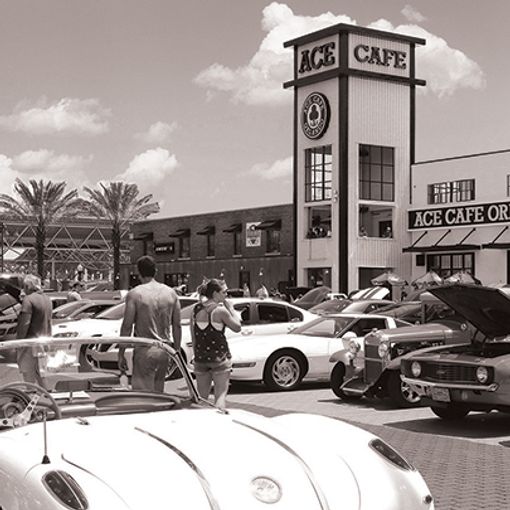 Ace Cafe Orlando
Outdoor Concerts!
The Ace Cafe was once a boiler plant during the turn of the 20th century, it was bought by prominent Orlando citizen Harry P. Leu in 1926 and turned into a warehouse for his industry supply businesses. In the 1990s, the site became home to a rock n' roll venue called "The Edge" where virtually every rock band from the era – Pearl Jam, Green Day, Lenny Kravitz & others graced the stages.
Today the Ace still has that classic "Edge" indoor stage and wide open outdoor stage area - we call it "The Backyard" - for an ourdoor festival vibe!